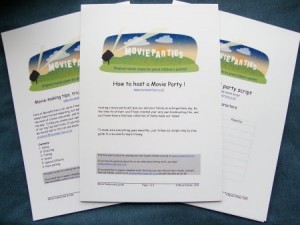 The Mouth of Naxxos party pack consists of:
the full Mouth of Naxxos script along with accompanying director's tips
our comprehensive guide to movie-making tips, tricks and special effects
your complete guide to how to host a movie party
(Payment is via PayPal but no PayPal account is needed – and all major credit cards are accepted.)
The Mouth of Naxxos is great for…
…swordfights, invisibility, earthquakes and Indiana Jones lovers!
Character list
Izzy – a schoolgirl
Nat – a schoolgirl
Alice – a schoolgirl
Tara – a schoolgirl
Elfinglas – a witch
Queen Nadia the Fair – Queen of the land of Talmir
Lady Crowfoot – traitor and enemy of Queen Nadia
Mistress Vile – servant of Lady Crowfoot
Sample pages from this script :
The Mouth of Naxxos, page 6 –
The Mouth of Naxxos, page 9 –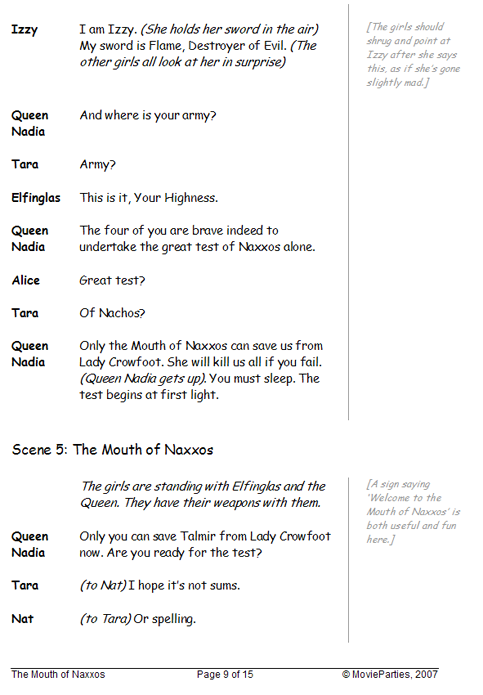 What's the story?
It's the first day of the long Summer holidays when four friends are summoned by a mysterious witch to the land of Talmir, where the Queen asks their help to defeat the evil Lady Crowfoot. The friends are asked to take the great test of Naxxos to save the kingdom from slavery, but Crowfoot and her evil servant Mistress Vile are not going to give up that easily. With swordfights, puzzles and magic everywhere, the school holidays have never been this much fun!